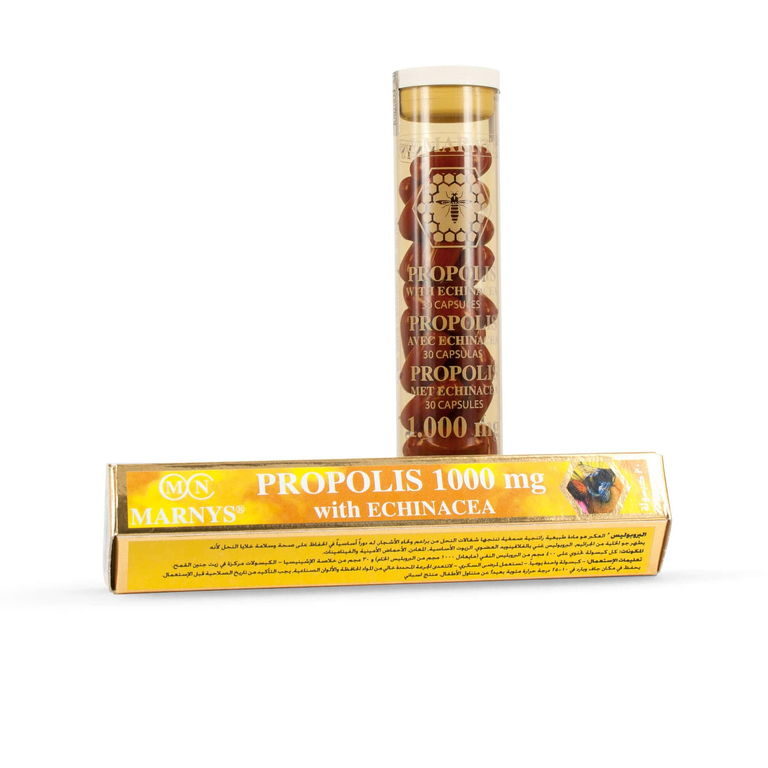 Defences for a normal respiratory function
Propolis, echinacea and wheat germ oil. Ideal during periods of environmental changes.
Each capsule of MARNYS® PROPOLIS WITH ECHINACEA contains purified propolis enriched with Echinacea juice concentrate in a base of Wheat Germ oil. In adults, helps maintain and regulate the immune and respiratory functions.
Propolis is a resinous substance used by bees to cover and protect the beehive from diseases and to seal walls and cells. Propolis is reach in bioflavonoids and essential oils appart from being a source of trace minerals, vitamins and amino acids. 
MARNYS® guarantees in propolis a minimum galangin content of 10%, highly purified since through proprietary technology inactive substances such as wax are eliminated. Galangin is a polyphenol with antioxidant activity.
Echinacea purpurea is a medicinal plant that has been traditionally used and studied for its activity in infections and immune disorders. It is an extract of fresh plant where both the aerial part (flower) and the root are used, ensuring with this procedure a greater content of active ingredients.
Echinacea favours a normal immune function, contributing therefore to the normal functioning of the respiratory system.
Each capsule contains 400 mg of purified propolis (equivalent to 1,000 mg of crude propolis) enriched with 30 mg of Echinacea juice concentrate in a base of Wheat Germ oil. 
30 capsules x 1000 mg
Food supplement should not be used as a substitute of a balance diet.
Don't increase the recommended daily dosage.
Free from artificial preservatives, flavouring and yeast.