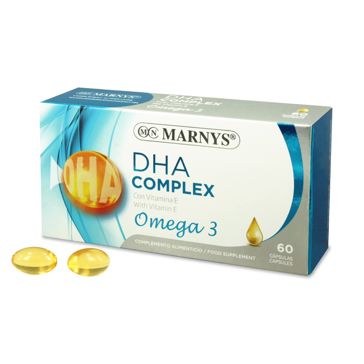 SOURCE OF FISH-DERIVED DHA THAT FUELS YOUR MIND AND VISION
Source of fish-derived DHA that fuels your mind and vision. Fish oil in softgel capsules with over 50% DHA and natural vitamin E.
MARNYS® DHA COMPLEX softgels contain a high Omega-3 fatty acid content, that provides docosahexaenoic acid (DHA), which helps maintain normal brain function and normal vision*.
DHA Complex also contains natural vitamin E, which helps protect cells against oxidative stress.
*Benefits of 250 mg docosahexaenoic acid daily intake.
Oil in capsules for longer storage life and more practical dosage. MARNYS® analyses marine oils in accordance with strict international standards on pureness and freshness.
DHA Complex guarantees that oil properties are non-toxic: achieving the correct contaminant, heavy metal, dioxin and furan levels.
Fish oil with 50% DHA and D-α-tocopherol (vitamin E).
Capsule shell: gelatin, glycerin and water.
ALLERGENS: Contains fish-based ingredients
60 capsules
Do not exceed the recommended dose.