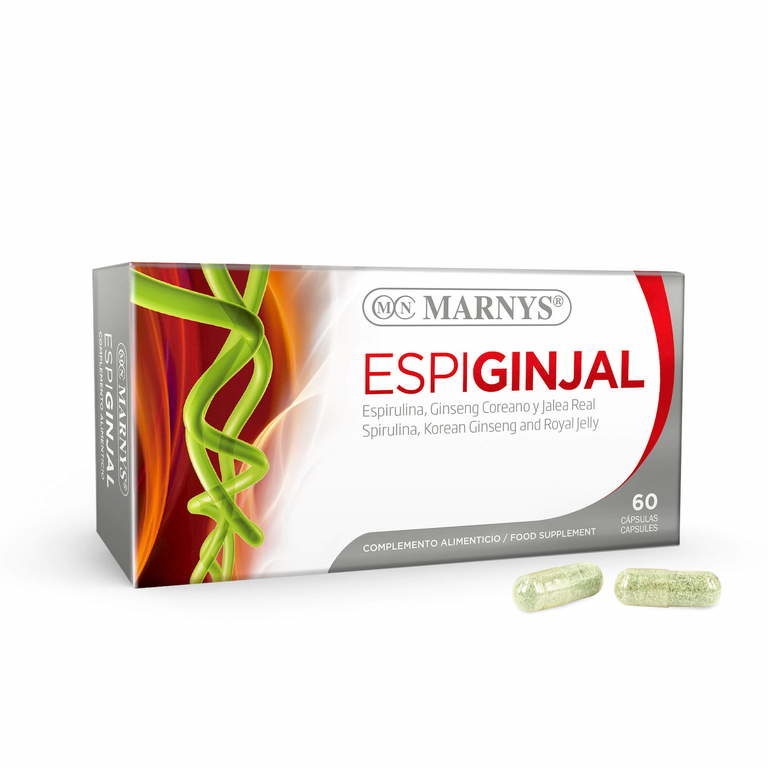 Balanced formula, allied to your diet
Spirulina, the 'super food' seaweed, Korean Ginseng and Royal Jelly. Balanced nutrition for weight control.
MARNYS® ESPIGINJAL contains Spirulina, Korean Ginseng and Royal Jelly, a formula that provides a balance of proteins, vitamins and essential fatty acids which contributes to a balanced nutrition, facilitating the maintenance of body weight and being especially recommended for people with nutritional and energy disorders.
Ingredients of ESPIGINJAL
Spirulina is a blue-green seaweed named a 'super food' by the World Health Organization. It is considered one of the richest, most complete natural source of nutrients. It contains over 50% of its weight in proteins (C-phycocyanin), phenols, essential fatty acids (linoleic), minerals (iron, magnesium), vitamins (E, B12) and carotenes.
Spirulina is useful for maintaining a balanced body composition. Its nutritional properties make it ideal for promoting energy processes necessary for physical and mental performance.
Royal Jelly is the sole diet of the queen bee. It provides unsaturated fatty acids, essential amino acids, vitamins and minerals, being especially useful for nutritional deficiencies as it favours the production of energy.
Ginseng contributes to maintaining a normal immune function and normal blood glucose levels, favouring the energy process in mental and physical activities. Ginseng contains a minimum ginsenoside content of 10%. Ginsenosides are responsible for its functional properties.
Spirulina (100 mg), Lyophilized Royal Jelly* (100 mg), Korean Ginseng (100 mg), Magnesium Stearate (10 mg). *10 HDA min. 6% equivalent to 300 mg of Fresh Royal Jelly.
Take 1 to 3 capsules daily, before meals.
30 capsules