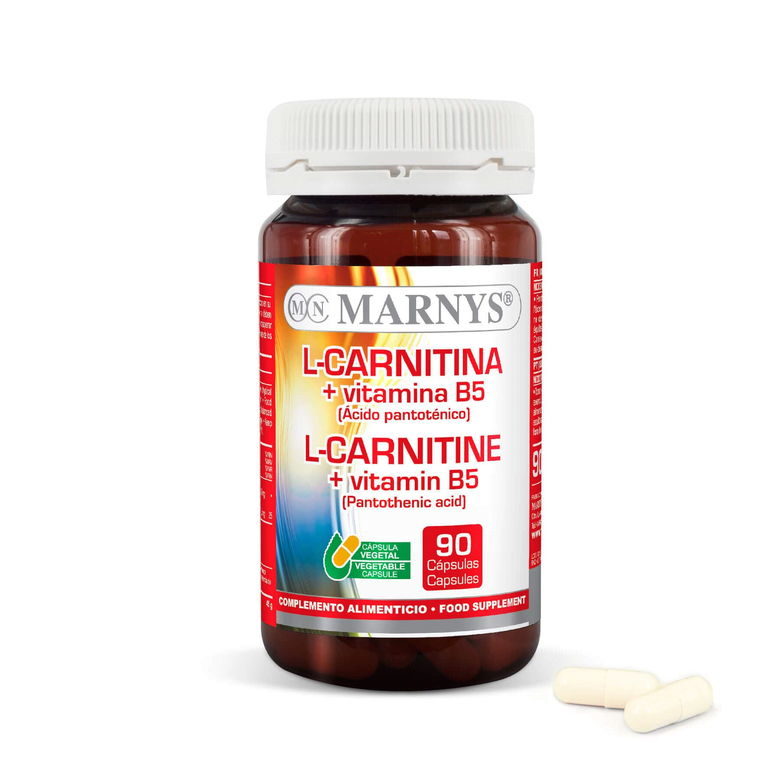 Intense exercise with energy
Contributes to reduce tiredness and fatigue, preserving muscle integrity.
Each MARNYS® L-Carnitine capsule contains 500 mg of pure L-Carnitine, with pantothenic acid (vitamin B5). Both L-Carnitine and vitamin B5 act in the fatty acid oxidation process, contributing to reducing fatigue and preserving muscle integrity5.
Fatigue is understood as the tiredness experienced after intense and continuous physical and mental exercise. Among the supplements aimed at improving physical activity and addressing fatigue are amino acids + vitamins, which have nutritional action, prioritise the increase of muscle tissue, produce energy for muscle, minimize the effects of fatigue, increase mental alertness and help reduce body fat.
L-Carnitine is necessary for producing and releasing energy, it is stored in our body and is quickly released as an energy supply, so it is widely used to increase sports performance and improve aerobic and anaerobic capacities1,2.
It also improves the capacity for recovery and decreases muscle damage from specific muscle-building exercises1,2,3.
The action of L-Carnitine during muscle energy process increases physical performance by 11%4.
Per capsule: L-carnitine tartrate (500 mg) and pantothenic acid (1.5 mg - 25% RDA).
Capsule shell composition: Hypromellose, titanium dioxide.
Take 4 capsules a day, preferably 2 hours before physical exercise or, in its absence, on an empty stomach.
90 vegetable capsules
Food supplements should not be used as a substitute of a balanced diet.
Do not increase the recommended daily dosage.
Keep out of the reach of children.