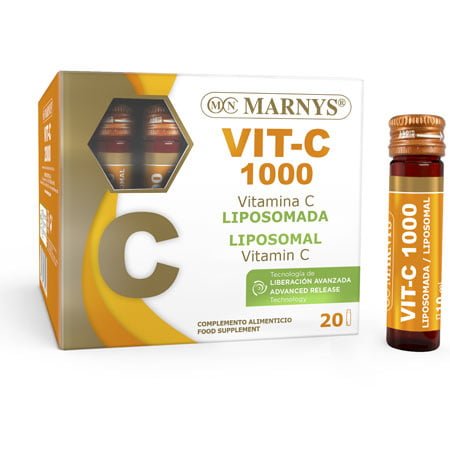 MARNYS® liposomal Vitamin C Vit-C 1000
Food supplement in single-dose drinkable vials with 1000mg liposomal vitamin C
MARNYS® VIT-C 1000 is a food supplement in single-dose drinkable vial format that contains 1000mg liposomal vitamin C. Vitamin C contributes to normal immune function and to cellular protection from oxidative damage.
MARNYS® VIT-C 1000 is the only supplement on the market that offers an exclusive formulation based on liposomal vitamin C in single-dose liquid vial format with advanced release technology. This unique formulation provides higher stability and bioavailability compared to traditional presentations.
Compared to standard vitamin C supplements, liposomal vitamin C assures increased availability in blood levels. This occurs because the phospholipid (from sunflower) content in MARNYS® VIT-C 1000 allows absorption in the intestine, thus protecting vitamin C from stomach acids.
MARNYS® VIT-C 1000 is especially recommended for adults who want a vitamin C supplement with excellent availability, contributing to the normal function of the immune system, for example during winter periods and seasonal changes, as well as to protecting cells from oxidative damage.
The MARNYS® VIT-C 1000 single-dose drinkable vial format is an innovative, convenient and safe presentation. It lets users take the amount of bioactives in the formula safely while ensuring product stability, without alteration throughout the product shelf life.
PROPERTIES OF VITAMIN C
Vitamin C has got other useful healthy properties:
Water, sodium ascorbate (vitamin C), orange juice concentrate, flavours, acidity regulator (citric acid), emulsifiers (phosphatidylcholine, polysorbate 20), preservative (potassium sorbate), thickener (gellan gum), sweetener (sucralose), colour (beta-carotene).
1 vial a day before breakfast.
Shake well before use.
20 X 10ml vials
Food supplements should not be used as a substitiute for a balanced nutrition.
It is recommended to keep a varied and balanced diet and healthy lifestyle.
Do not exceed the recommended daily dose.
Keep away from children.
Do not store at a temperatures above 30ºC.