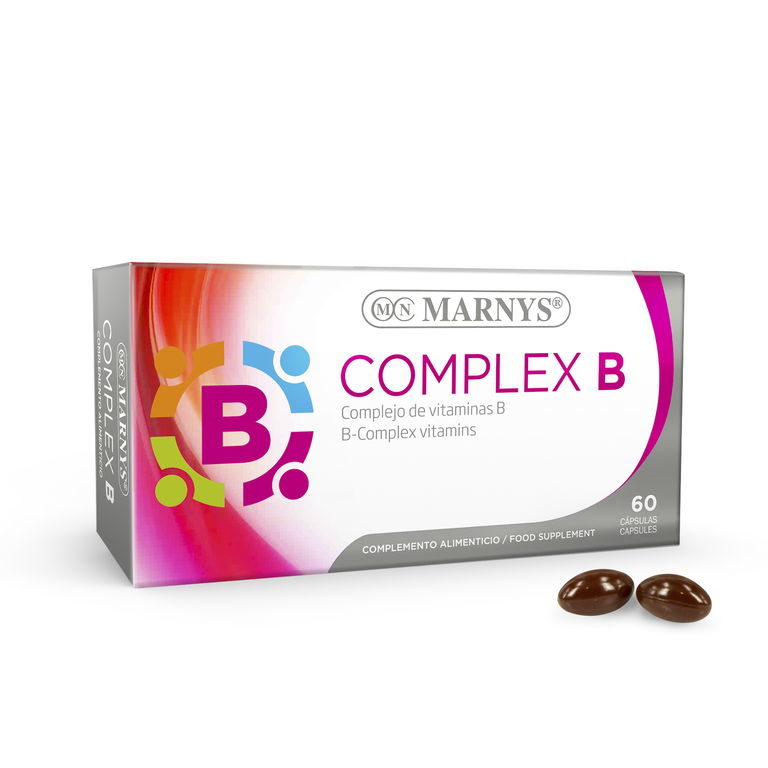 ALL THE VITAMIN B GROUP VITAMINS IN ONE SINGLE CAPSULE
Complex that combines B vitamins for the nervous system, intellectual performance and reduces fatigue*.
MARNYS® COMPLEX B are softgels that combine all B vitamins. Thiamine, Riboflavin, Niacin, Pantothenic acid, vitamin B6, Biotin, Folic Acid and vitamin B12. It also contains vitamin C and E. Vitamins thiamine (B1), riboflavin (B2), B6, Biotin, B12, C, and Niacin (nicotinamide) help maintain a normal nervous system*. Pantothenic acid contributes to normal intellectual performance and helps reduce tiredness and fatigue*.
Sunflower oil, anhydroglucose, partially hydrated soy oil, vitamin C, soy lecithin, nicotinamide, vitamin E, calcium pantothenate, vitamin B6, riboflavin, thiamine, folic acid, biotin, vitamin B12.
Capsule shell: gelatin, glycerin, colours (red iron oxide and black iron oxide) and water.
ALLERGENS: Contains soy
Take one capsule a day, preferably before main meal.
60 capsules