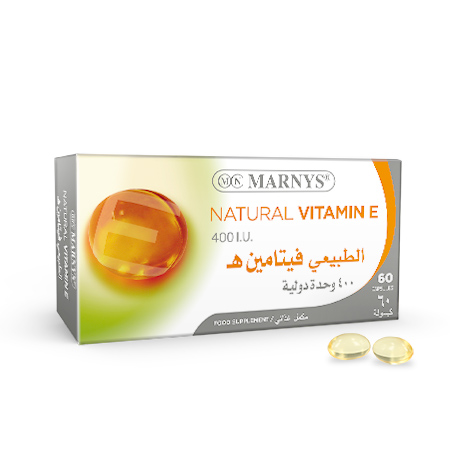 Protect you from damage caused by free radicals
MARNYS® Natural Vitamin E 400 IU is antioxidant that protect cells from harmful free radical & stabilize cell membranes and tissues.
MARNYS® Natural Vitamin E 400 IU in capsules is a natural source of vitamin E, d-α-tocopherol, which favours the protection against oxidative free radicals. The most biologically active antioxidant is d-α-tocopherol.
MARNYS® Natural Vitamin E 400 IU is especially recommended for people who want to protect their body cells from oxidative damage, which may help to protect the whole body.
It is easy to dose, being really helpful for adults over 18 years old.
It helps boost the immune system and maintaining a healthy heart.
It helps improve sperm motility and quality (Increase the fertility).
Natural Vitamin E protects cells from oxidative damage (EFSA).
Vitamin E and the antioxidant effect
Vitamin E is the name given to a group of water-insoluble plant substances. There are eight natural forms, being d-alpha-tocopherol, the most biologically active form and the activity of vitamin E is traditionally expressed in terms of equivalents of this form, that is, equivalents of alpha-tocopherol in mg or α-TE.
The major sources of vitamin E are fats and oils. It is also found in some vegetables, in meat, poultry and fish fats and, to a lesser extent, in cereals and dairy products. About half of the tocopherol in wheat germ, sunflower, safflower, canola, olive, and cottonseed oils is α-tocopherol, but soya bean and corn oils contain about 10 times more γ-tocopherol than α-tocopherol.
Most of the vitamin E is found in foods containing fat. Absorption requires fat content in food for intestinal absorption, along with bile and pancreatic secretions.
What are oxidative free radicals and how does vitamin E help?
Oxidative free radicals or reactive oxygen species (ROS) are generated in biochemical processes (for example the respiratory process) and as a result of exposure to external factors (radiation, pollutants). These reactive intermediates can damage molecules such as DNA, proteins and lipids if they are not intercepted by the antioxidant network, which includes free radical scavengers like antioxidant nutrients.
Vitamin E works physiologically as an antioxidant that captures free radicals and prevents the spread of lipid peroxidation. Vitamin E is part of the antioxidant defence system, which is a complex network including endogenous and dietary antioxidants, antioxidant enzymes and repair mechanisms, with mutual interactions and synergistic effects between the various components.
Vitamin E is effective when protecting the integrity of lipids and phospholipids in cell membranes and, therefore, its presence and recommended intake is largely determined by the amount of polyunsaturated fatty acids (PUFA) consumed. Increased PUFA content in a diet low in α-tocopherol equivalents has been shown to have got adverse effects on tocopherol status.
Natural viramin E (RR-d-α-Tocopherol 67%) 470mg*. *(Equivalent to 400 I.U.)
Soya oil: 30mg
1-2 capsules a day. Recommended for individuals over 18 years old
60 capsules
Food supplements should not be used as a substitiute for a balanced nutrition.
It is recommended to keep a varied and balanced diet and healthy lifestyle.
Do not exceed the recommended daily dose.
Keep away from children.
Do not store at a temperature above 30ºC